Guest Artists
Duncan Honeybourne – Piano
Duncan Honeybourne enjoys a diverse profile as a pianist and in music education. His concerto debut in 1998 at Symphony Hall, Birmingham, and the National Concert Hall, Dublin, was broadcast on radio and television, and recital debuts included London, Paris, and international festivals in Belgium and Switzerland. Duncan has toured extensively as soloist and chamber musician, broadcasting frequently for the BBC and radio networks worldwide. His many recordings reflect his interest in 20th and 21st century British piano music. He is a Tutor in Piano at the University of Southampton.
Jonathan Stone – Violin
Violinist Jonathan Stone graduated from the Royal Academy of Music in 2005, and since then has established an international reputation as  chamber musician, soloist, concertmaster and director.  He belongs to the prestigious Doric String Quartet who perform regularly at the Wigmore Hall, as well as touring the States annually, including New York's Carnegie Hall.  They perform frequently in various European countries, and have   recorded 15 discs for Chandos Records. Jonathan has recently been  appointed leader of the French orchestra Le Cercle de l'Harmonie, and is a founder member of the Phoenix Piano Trio, described as 'exquisitely  sensitive' by BBC Music Magazine. His interpretations are strongly  influenced by his fascination with historically informed performance, and his violin was crafted by Raffaele and Antonio Gagliano in 1830.
Diana Mathews – Piano
Diana Mathews pursues an active performing career both on piano and viola.  She gained a BMus with First Class Honours and MMus with Distinction at the Royal Academy of Music and won many prizes there.   She began learning piano with her mother at the age of three, and  went on to study with Michael Dussek and Graham Caskie at the Junior Academy and then at the Royal Academy with Diana Ketler.  Piano performances have included the Mozart Concertos in C minor and A major, as well as Beethoven Concerto No. 1.  She has also performed piano duos with her mother, Cordelia Mathews.
Ben Rouse – Ukulele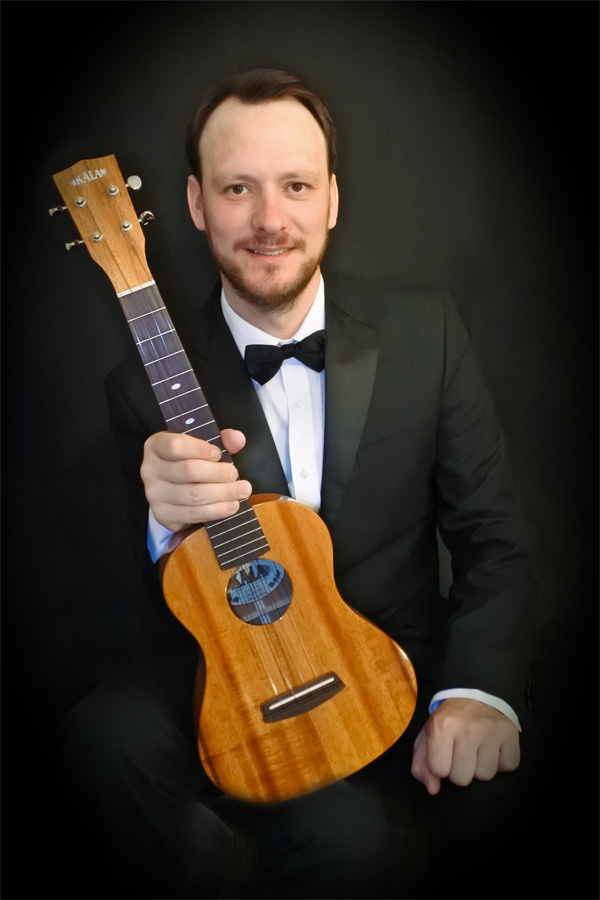 Ben first played guitar when he was 11, and by the age of 14 was playing lead guitar in many different bands.  A few years ago he discovered the ukulele, and now devotes all his playing time to ukulele and Ubass.  He plays in a fast finger style, and produces complex sounds that astound and delight.  As well as performing, he also composes and does arrangements of existing music.
He has recently played ukulele and Ubass with the internationally renowned Ukulele Orchestra of Great Britain, and has toured Sweden, Germany and the UK with them.  He also had the honour of playing with the orchestra for the Queen's private 90th birthday party at Windsor Castle.
Simon Watterton – Piano
While at the Royal College of Music, Simon won a number of awards, including the Hopkinson Silver Medal and the Esther Fisher prize for the best undergraduate performance. In his final recital, peforming Bach's Goldberg Variations, he achieved the highest mark in his year.
Since then Simon has given recitals as soloist and chamber musician around the world, including China, Canada, the USA, Sweden and Italy as well as extensively in the UK. He made his concerto debut at London's Cadogan Hall, and has since performed at the Wigmore Hall, St John's Smith Square and St Martin's In-the-Fields. He featured as a Rising Star in a 2009 issue of International Piano Quarterly magazine, and in 2010 was awarded the British Music Prize at the Sussex International Piano Competition.
As a teacher he has worked extensively with students at Diploma and Conservatoire level, and has experience as a chamber music coach. In 2011 and 2012 he was invited to attend the Banff centre in Canada, where he worked as a collaborative pianist.
Simon recently played live on In Tune on BBC Radio 3 with the London International Players, and will soon record his first CD. He is grateful to the Solti Award for their support.
Diana Mathews – Viola
Diana Mathews pursues an active performing career as soloist, chamber and orchestral musician.  She studied with Yuko Inoue and Matthew Souter at the Royal Academy of Music where she gained a BMus with First Class Honours and MMus with Distinction.  Prizes include the Theodore Holland Prize, Sidney Griller Memorial Prize, the Alfred Gibson Prize and the Kenneth Page Foundation Viola Competition.  Review comments from recitals have included: 'took us deep into the other worldliness of the near static, dream-like passages of its finale' and 'her tone was glowing and her musicianship inspiring.'
Solo performances include Martinu's Rhapsody-Concerto with the Isis Chamber Orchestra, Penderecki's Concerto with Exeter University Symphony Orchestra, Berlioz'  'Harold in Italy' with Stoneleigh Youth Orchestra, and Mozart's Sinfonia Concertante for violin and viola with the Haydon Chamber Orchestra.
As a chamber musician Diana is a regular guest artist with the Kreutzer Quartet and she has participated in the London Festival of Chamber Music playing with the English String Quartet leader, Diana Cummings.  Diana freelances with various orchestras including the Royal Opera House Orchestra.
Diana plays on a Pietro Antonio Testore viola (1780).
Madeleine Millar- Bassoon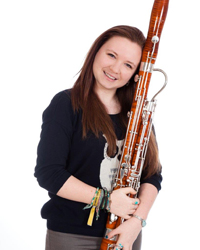 Madeleine is a bassoonist from Reading. She is principal bassoon of the Berkshire Youth Symphony Orchestra and was principal bassoon of the National Children's Orchestra. She has held Music Scholarships with Berkshire Maestros and The Abbey School for many years. Madeleine is also principal of the bassoon quartet Acer Saccharum, which has performed extensively all around the country and represented the UK at an international conference in Beijing where they also undertook an extensive concert tour. She has won a large number of competitions and was awarded the inaugural Nick Hunka Memorial Prize for most outstanding young bassoonist by Martin Gatt. Madeleine achieved Distinction in Grade 8 at the age of 11 and had undertaken three diplomas before she was 14. She has been lucky enough to perform solos with many excellent orchestras over the last few years and is looking forward to playing with Langtree Sinfonia.
Edward Reeve – Piano
Edward has been playing the piano since the age of seven, and completed his Diploma of the Associated Board of the Royal Schools of Music when he was fourteen. He gained the Licentiate of the Royal Schools of Music at the end of 2011 with distinction. Edward is a past recipient of the Sheila Mossman Award, and has twice been successful in completing the Regional Auditions for the BBC Young Musician of the Year competition. Edward has been fortunate to have had the opportunity to perform piano concertos with a range of local orchestras, including Mozart's 24th Piano Concerto (Aldworth Philharmonic Orchestra), Mendelssohn's 1st Piano Concerto (RBCS Festival Orchestra), Mozart's 24th Piano Concerto (Reading Symphony Orchestra) and Beethoven's 1st Piano Concerto (Aldworth Philharmonic Orchestra). Future engagements are likely to include Brahms' 2nd Piano Concerto and Mozart's 25th Piano Concerto, and Edward hopes to be able to complete a Beethoven concerto cycle with the Aldworth Philharmonic Orchestra. He is a keen conductor, composer and improviser and he is Organist at St. Andrew's Church in Caversham Heights. He has performed widely as an accompanist for a variety of choral societies, choirs and distinguished soloists, and is fortunate to have had many of his compositions premiered in recent years, including a choral anthem which was performed by his school choir at Christmas 2011, with the trumpet part played by Paul Mayes from the London Symphony Orchestra. Edward's Concerto for Flute and Orchestra and Concerto for Bassoon and Orchestra are scheduled for publication later this year. Edward has been awarded an Organ Scholarship at Queens' College, Cambridge, to read music.
Jens Franke – Guitar
Born into a family with a strong musical heritage, Jens started playing guitar aged 10. He continued his studies at the Guildhall School of Music and Drama, graduating in 2006. Since then he has studied with Graham Devine and is now beginning to enjoy a career both as player and teacher. As a concert soloist his inaugural performance was of the Rodrigo concerto with Langtree Sinfonia in 2007 and he has now developed a wide repertoire, with a particular interest in contemporary music. He is visiting lecturer in guitar at the University of Reading, and teaches at Wellington College.
Nils Franke – Piano
Older brother of Jens, Nils has won piano scholarships and awards at the Royal Academy, Royal Scottish Academy and University of Reading. As a performer he has appeared with orchestras such as the St Petersburg Philharmonic, and has premiered recently discovered works by Mendelssohn and Lalo with his ensemble, the Franke Piano Quintet. In 2008 he gave the world premiere of Grieg's piano quintet in London, in the completion by Michael Finnissy. He has recorded solo piano and chamber music by Rachmaninov and Bortkiewicz. As well as performing, Nils devotes much of his time to teaching, and is a mentor on the Associated Board's professional development course, as well as Course Director of the Music Teaching in Professional Practice course at Reading University. Forthcoming publications in 2009 include two further anthologies of romantic piano music, published by Schott.
Sharon Warnes – Violin
Having studied violin both at the Royal Academy of Music and Trinity College, Sharon has had a professional playing career which has spanned more than 20 years, including solo, chamber and orchestral music both in Britain and abroad. She combines performing on the violin with teaching, and in 2003 trained to become a Music Therapist at Anglia Ruskin University, Cambridge, where she graduated with distinction. Since moving to Wallingford in 2007, Sharon has established herself locally as a performer and teacher, and is music therapist at several locations in Wallingford and Henley. She often gives recitals with the pianist Jeremy Boughton.
Bethany Cox – Soprano
Daughter of Paul, Bethany was born in 1992, and was awarded a diploma in singing while studying with Andrew Yeats. In 2007 she was soprano soloist in The Messiah, and in 2009 sang Ravel's Habanera with Reading Youth Orchestra. Bethany also enjoys singing regularly with South Hill Park Opera and Taplow Youth Choir. She now studies at the Birmingham Conservatoire of Music.
Jeremy Boughton – Piano and Organ
Jeremy was educated at Reading Blue Coat School and Newton Park, Bath where he studied piano, and sang in the Bath Abbey Evening Choir. He now divides his time between teaching and performing. He is repetiteur to the Benson Choral Society and directs the Thames Consort. For 23 years he was director of music at St Helen's Church, Benson, and now holds the same post at Dorchester Abbey. He usually plays principal cello with Langtree Sinfonia, and in his spare time builds pipe organs.
Rachel Porter – Oboe
Rachel's freelance musical activities are widespread, encompassing orchestral playing, concerto performances and chamber music, including recital work with harp.  She has worked with Paul Cox on a many occasions, both in orchestras and chamber ensembles.  An as orchestral musician, Rachel has played with London Chamber Players, National Chamber Orchestra of Wales and Royal Philharmonic Concert Orchestra, amongst others.  She has appeared as a concerto soloist in works by composers including Strauss, Mozart, Vaughan Williams and Hummel.
Todor Nikolaev – Violin
Born in 1982 in Sofia, Bulgaria, Todor started to study violin at the age of 5. In 2000 he won an award to study at the Guildhall School of Music and Drama, where he graduated with honours.  He has won several international competitions, and gives chamber recitals both in the UK and Bulgaria; He has made recordings for Bulgarian National Television and BBC Radio 3.  Todor is a member of the Franke Piano Quintet, which also includes Paul Cox.  He is violin tutor at Blackheath Conservatoire of Music, the University of Reading and St. Swithun's School in Winchester.
Sam Cave – Guitar
Sam graduated from the University of Southampton with first class honours and the Edward Wood memorial prize in music.  He studied guitar and lute at the Royal College of Music.  Sam performs both as a soloist and part of the flute and guitar ensemble, Duo Nuevo.  He is passionate about twentieth and twenty-first century repertoire and composes both alone, and in collaboration with others such as George Holloway, Michael Zev Gordon and Huw Belling.  Sam plays a 2006 guitar by Rohan Lowe.