Home

Langtree Sinfonia is an amateur orchestra which meets at Langtree School, Woodcote,  on the borders of Oxfordshire and Berkshire.  Our musical director is Paul Cox. Many members  have either started playing as adults, or have taken up their instruments again, having learned as children. The orchestra has about 40 registered members, although extra players are co-opted when needed for bigger works. Concerts are given twice a year – a classical programme  in November and a more ambitious romantic event in May or June. Concerts are held at St. Mary le More Church, Wallingford; St. Helen's Church, Abingdon and Dorchester Abbey.
In addition a full day's workshop is held in February or March. At the end of the autumn and summer terms we usually hold a social event for families and Friends of the Orchestra, which includes a short performance.
If you play an orchestral instrument and would be interested in joining the Orchestra, or would like further information, please click here for details. Auditions are not required.
---
Paul Cox – Conductor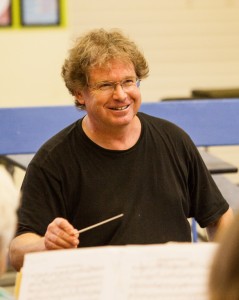 Paul read music at the University of East Anglia where, as part of the performers course, he was able to further his 'cello studies with Christopher Bunting. After graduating, he was awarded a scholarship to Reading University, enabling him to complete a Master of Music degree in Performance Studies. Since then, he has given numerous concerto and recital performances, and has been broadcast on the BBC, Independent Radio Network and Swiss Radio. He recently played the Beethoven Triple Concerto with the St Petersburg Philharmonic Orchestra in Germany. In March 2005 he performed in a series of recitals with The Franke Piano Quintet at St John's, Smith Square.
He has conducted many orchestras and choirs, including the University of Reading Orchestra and the Berkshire Youth String Orchestra, with whom he won first prize at the Youth and Music Festival in Vienna. He is head of the 'Eureka! Foundation' which combines teaching, concert promotion and community fund-raising. He is specialist String Editor for the diploma in Music Teaching in Private Practice developed by The University of Reading and the ISM.
---
Melissa Ward – Leader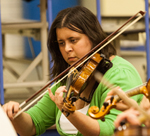 Melissa studied Music at the University of Reading where she played in the Orchestra and was leader of the Chamber Orchestra. She then studied at Bournemouth University where she completed a post graduate Diploma in Composing for the Screen and an MA in Post Production and Sound Design.